Tony's EPIC Road Trips Across Europe Ireland
DUBLIN - ATHLONE - GALWAY - CLIFDEN - CONNEMARA NATIONAL PARK - LIMERICK - ADARE - LISTOWELL - DINGLE - KILLARNEY NATIONAL PARK - CORK - CARRICK ON SUIR Text and Photos: Tony Steurer 2,200 km / 1,370 miles
Tony is an ultra-experienced traveller who has been to over 110 countries. Having lived in Kuala Lumpur for many years, he is currently based in Munich.
October 2014 in Ireland, not the ideal time as rain falls frequently. On a positive note: less tourists. Upon arrival at Dublin airport and after picking up the rental, I drive west. On the circular in Dublin straight into a toll trap between exit 6 and 7, where you have to pay for a strip of only 2 kilometres, as I had to in order to take Exit 7. Better pay online within 24 hours!
Driving through the Midlands (which is basically everything here except the coastal areas). Pleasant scenery without any special attractions or highlights. First stop in
Athlone
, about 7500 inhabitants. Colourful painted houses, shops, and pubs. But about every third shop appears to be empty; beyond the high street in the centre, the town is dead. Bridge across the Shannon River; lots of boats. A new shopping mall in the centre of town has attracted buying power; attached to it is a modern Sheraton with a big pool and chic, modestly priced rooms. Castle and a massive church.
On to
Galway
, very modern with a looked-after appearance. Suburbs along the Atlantic with beaches and countless hotels. Otherwise a mire of low slung buildings, lots of B&Bs, like everywhere in the west of the island. People seem to like suburbanisation a lot. Everywhere I go, I see big, modern houses with mighty driveways in park-like settings. In the bigger towns, however, many buildings have a shabby appearance. In the evenings and at night, few windows are alighted, so I suppose a number of houses must stand empty, with people having already moved to more beautiful, newer homes.
As for food, cooking is not the country's biggest forte, so the discerning traveller can choose between traditional dishes (also well known in the UK), and the usual international mix of Chinese, Thai, Turkish, Italian, or Greek dishes. Breakfast is mostly 'full Irish': eggs sunny-side up, sausages, beans, toast, plus rather weak coffee. Luckily, Illy coffee enjoys a presence on the island, and in Dublin you find Cafe Nero and some others. A word about prices: diesel costs as much as gasoline. German discounters Aldi and Lidl have a thorough presence, their prices on the continent about 50 % lower but here amongst the cheapest food options. The cost of eating out is on western European big city price levels; only here you are in small towns and villages.
Near Galway I enter the
'Wild Atlantic Way
', a fairly new marketing idea, consisting of a 1500 km route along the western and southern coastlines. We drive about two thirds of it. Heading into Connemara: The scenery gets rougher, the glacial past is very visible; rounded rocks and mountains, numerous lakes, in between are moorlands with depletion of peat. Ferns, thorny bushes, pastures, rhododendron, and flowering broom. Impressive castle-turned-hotel in Ballynahinch with a stunning park full of old trees and a picturesque lake.
Clifden
is the main town in this area, living off tourism with every second house a hotel, bar, or restaurant. Beyond lies the Connemara National Park, with hardly any people around; mountains up to 1000 meters high, strong winds, plenty of sheep.
The road network is interesting out west. Some excellent motorways but mainly narrow and bumpy roads, where I bounce along like being on a ship, driving through a tunnel of dense vegetation and bushes. Hundreds of bends and turns, plus lots of trucks and busses. Ireland has a disproportionately high number of traffic mortalities in comparison to other European countries. And indeed, driving standards leave something to be desired, although to my surprise, I do not witness a single traffic accident. Instead, I drive along absolutely amazing country lanes, flanked by old trees, enormous hedges of rhododendron and arborvitaes; tall as houses, often almost touching the roof of my car.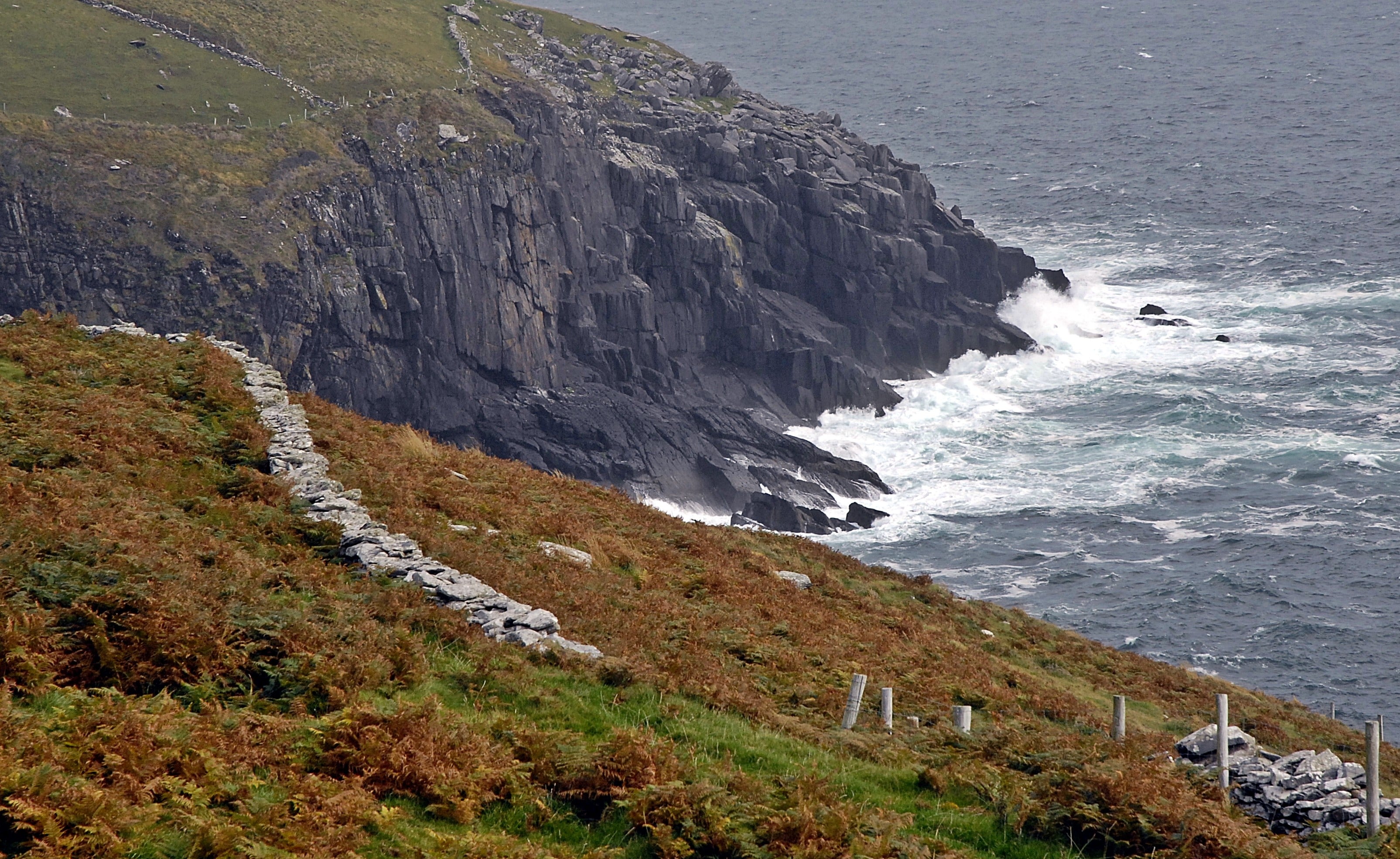 Burren
: A rocky scenery, created by glaciers. Lonesome hike through streaming rain, crannied crevasses, but also polished rock surfaces. Ferns, orchids, blackberries, thorny bushes. A 5000 year-old burial site, an ancient round citadel, which reminded me of the Roman Limes, karst caves.
Cliffs of Moher
: Supposedly Irelands biggest tourist draw with one million visitors every year. Big business, entrance fee is 6 Euro, which allows you to go up to the cliff edge. Lots of gushing wind and rain. Basically, you pay for the car park and the visitor centre is a massive souvenir supermarket. The vertical cliffs are about 200 m high and 8 km long, the raging ocean down below. Everything here seems optimised for maximum tourist intake, which is disappointing.
Driving south: Sometimes the coastline is deserted with a few sandy beaches sprinkled in between. Good surf spots like Spanish Point. Still a lot of suburbanisation; many big and pricy houses and large estates in phantastic sea-view locations. Narrow roads, often I have to let oncoming traffic through before being able to move on. The flora continues to amaze me. Dragon trees, hedges of Fuchsia, Pampa grass, lots of different moss and ferns. Hedges and old walls curated over generations. Every single piece of land appears to be fenced in.
Limerick
: Visually not an appealing town on the banks of the River Shannon. Alcoholic drinks are highly taxed and sold only after 10.30 am (on Sundays and public holidays after 12.30 pm, none on Christmas). I am denied a bottle of wine at a supermarket when doing some shopping at 10 am. 'It's the law'. Really? If this is a public health measure it could easily be circumvented by buying a few bottles during licensing hours. And there shouldn't be too many hotel guests who enjoy a customary black Guinness at 7.45 am this morning? I'm puzzled.
Adare
claims to be most beautiful village in Ireland. About 500 people. Traditional colourful houses, covered with sleet, very trim. Unfortunately, an endless, clogged-up stream of cars and trucks runs right through the town centre of this fine place. Nearby lies Adare Manor, one of the 'leading hotels of the world', with red ivy tendrils, a huge park with golf course, river, and mighty old trees. Inside wonderful historic atmosphere.
Further along the coast:
Listowell
with a castle ruin next to the customary, colourfully painted houses around a pretty square flanked by narrow, shop-lined lanes. On to Tralee and up the Connor Pass; at 456 m, Ireland's highest 'mountain' road. Extremely narrow, off limits for heavy vehicles. The height does not sound much but I am going up directly from a long sandy beach to fairly barren flanks, then through a glacial valley; waterfall, strong winds, three lakes deep down below, the mountains around 900 m high.
Once over the pass, it is down to colourful
Dingle
, starting point for the Slea Head Tour on a peninsula jutting out into the Atlantic. The road runs high above steep cliffs, wild surf below. Far-reaching views to outer rocky islands, seagulls. water being deep blue and green. Down to a sandy beach, the wind is very intense: hold on to everything! Climbing steep down to another little bay with a pier. Here I find some traditional boats built with tarred leather skins. Along the route I come across Gallarus Oratorium, one of the best preserved early Irish churches, built in the form of a capsized boat, completely made from stone. In the evening beer battered fish and chips, classic.
On my way back to Dingle, I drive on Inch Beach, a 1.5 km long and very broad sand spit stretching out like a finger into the sea. Driving on the beach: just like in Florida. The Atlantic's surf is wild. The views stretch far with the Kerry peninsula on the horizon. Posh villas on the slopes with million-dollar-vistas. Iverach peninsula: the road is known as the 'Ring of Kerry'. And yes, the golden butter comes from here as well… A crumbling castle ruin on a picturesque hill by the sea with gigantic ivy seemingly holding it together. Sheep on a pasture next to crashing waves. White Beach is a long stretch of sand. Immediately behind it is a steep narrow path up the mountain and always these big houses in amazing settings with far-reaching views.
Waterville
with a big beach promenade walkway. Across the Mullaghbegh Pass, lots of rocky islands visible. Staigue Fort off the main road in a valley. Impressive round building from the ice age, every stone was layered without any plaster, the walls 6 metres high and 4 metres thick with a diameter of 30 metres, in excellent condition. Impressive.
Through
Killarney National Park
, mountains up to 900 metres high; lakes, fern forests, thick moss coverings. Torc waterfall: A raging mountain river tumbles 40 metres into a wet canyon with vegetation that is as think as a rain forest. It certainly resembles a tropical jungle waterfall as the rain keeps on pouring down relentlessly. Nearby Muckross House with a dreamy view upon a mountain lake and wonderful gardens. Killarney is touristy, full of hotels and traffic, so I move on to Kenmare; an agreeable place with small, independent shops, pubs, and restaurants. Sheep market, some of the animals have such twisted horns they can hardly look out of their eyes. Some of the vendors give off the same odour as their animals.
The Irish pub is an institution and global export model. Fridays and Saturdays with live music and fiddles. Apart from Guinness, German stalwarts such as Paulaner or Krombacher can also be found.
In the southwest the landscape benefits from the warm gulf stream.
Beara peninsula
: The garden of Derreen impresses with tree ferns from New Zealand, palm trees, bamboo groves and rhododendrons. The appearance is very natural with the remains of fallen trees. Castletownbere has lots of coloured fish trawlers; oyster breeding. In Bantry I find the Namesake House, a 18th century palace of neglected charm, still inhabited by the descendants of the Earl of Bantry. Inside, mosaics from Pompeii, paintings, and ceramics. The kitchen with a historic, absolutely monstrous iron stove in its original condition. The best here are the gardens, gently sloping towards the sea, with cannons, the 'sunken gardens' full of exotic plants and a truly massive dragon tree. To the back are colourful bushes with wisterias and tightly cut box trees.
Timoleague Friary i
s a crumbling Franciscan monastery from the 13th century, that had been transformed into a cemetery. Eight inner yards are filled with tombstones. A sign at the entry warns against gravedigging as a dangerous act. The scenery gets greener and less rugged. Kinsale appears a wealthy place with very more independent and colourful shops. Cork doesn't appeal much to me, apart from the covered English market. Nearby
Cobh
, formerly Queenstown. Impressive deep sea harbour. The Titanic stopped here coming from Southampton to take on more emigrants. In front of the harbour mouth, three years after the Titanic had sunk, the Lusitania was torpedoed with 1198 casualties. Between 1815 and 1970 about 3 million people embarked here to the new world to escape hunger and crop failures. This is an astonishing figure given that today's Ireland has a population of 5 million. About 40 000 convicts were also shipped from here to Australia. This historic city centre features an oversized cathedral that was built from donations by grateful emigrants.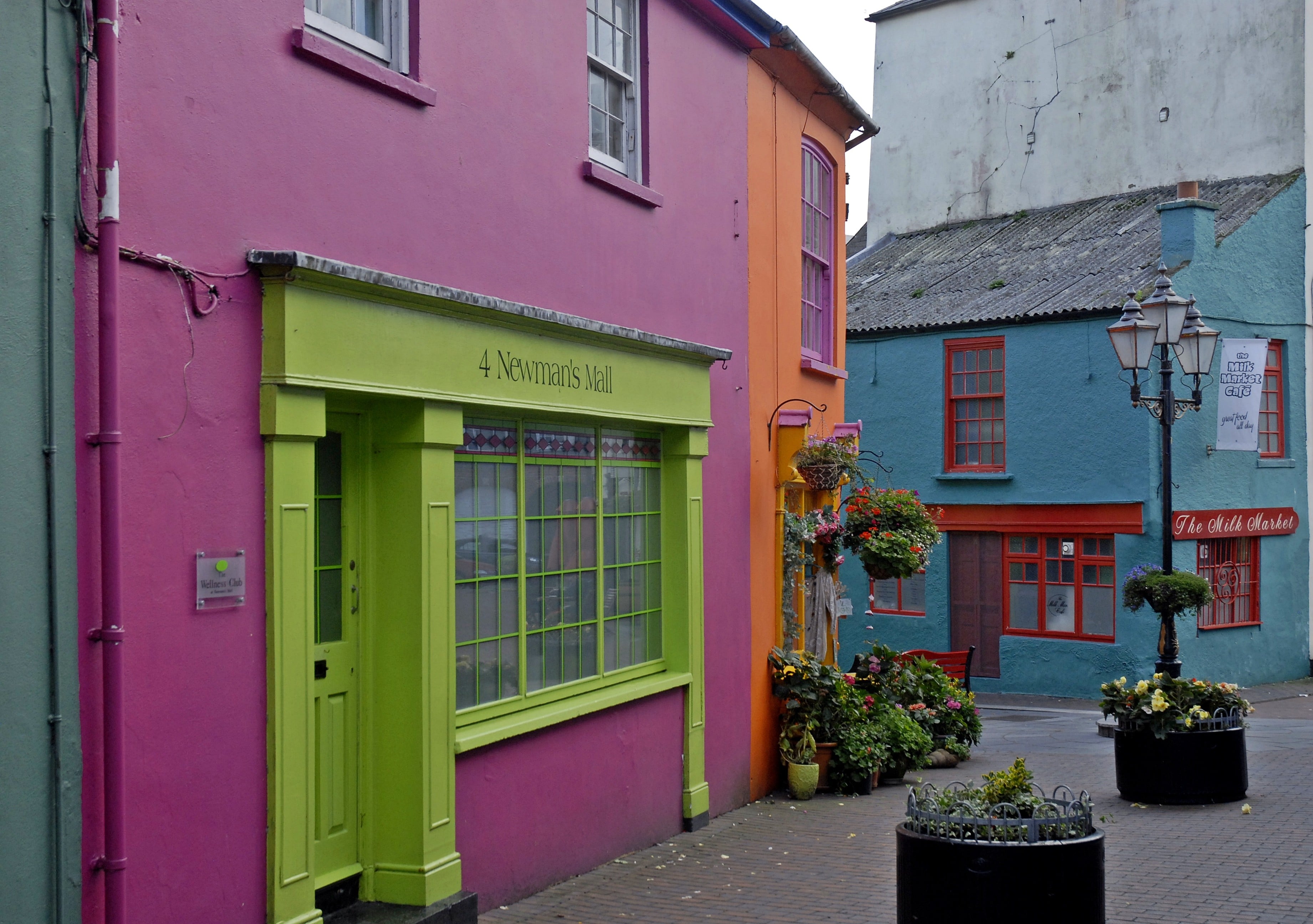 Very big forts in
Lismore
and
Cahir
. The latter claimed to be impregnable until the English took it in a ten-day siege. Driving through the Vee, a darkish range of mountains up to 800 metres high. Completely different scenery here. In Carrick-on-Suir is Ormond Castle, Ireland's only renaissance castle. Wealth found its expression through loads of crown glass.
Turning east: More industrial estates, mostly food, textiles, pharmaceuticals. JFK's great grandfather was born in New Ross. The Radio says that currently up to 1,500 people emigrate from Ireland every day. A lot of 'For Sale' signs. Many people are forced to sell because they can no longer service their mortgages.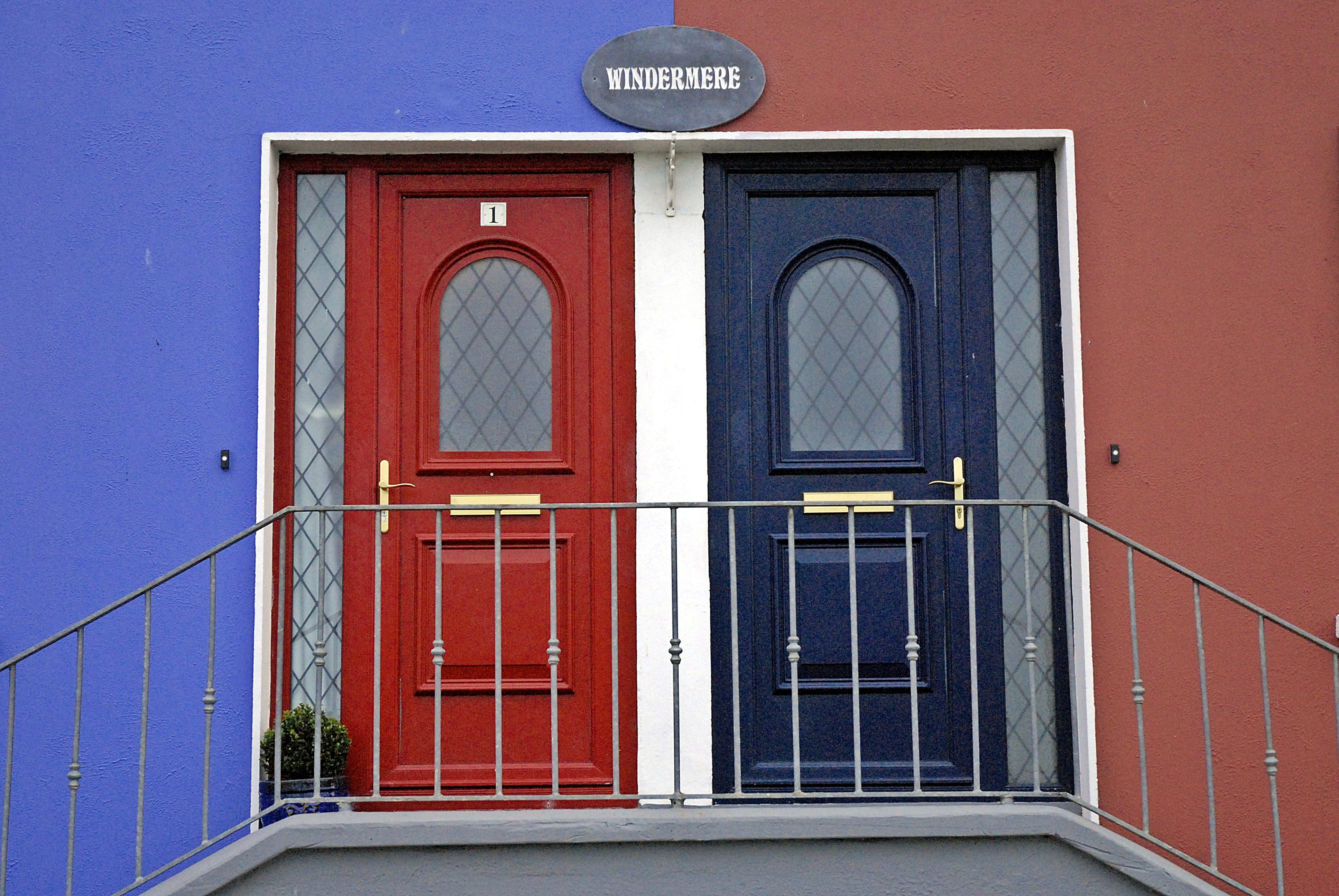 Dublin
: 550 000 inhabitants, 1.8 million in metro region. Traffic is very dense with frequent jams. The architecture is often a mix of different styles with seemingly not much respect for any historic context when building new. The city castle appears bland, but St Patricks Cathedral has a wonderful, diverse interior which is in marked contrast to its outer, drab, and grey appearance.
Temple Bar is the amusement district with historic, colourful pubs. The odd concrete brutalism. The pedestrian area offers the usual chain stores in mostly unremarkable buildings. Trinity College right in the centre is one of the oldest universities in Europe. It houses the 65 metre long 'Long Room' and the 'Book of Kells' from the 8th century. The Natural History Museum focuses exclusively on the domestic fauna. On the main axis O'Connell Street is the historic Main Post Office from 1818 and the 121 metre-high steel needle 'Millennium Spike'. St George's church from 1802 transformed into an unusual office space.