Andy's EPIC Adventures in Europe Long Distance Cycle Routes
Long Distance Cycling in Europe
Iron Curtain Trail. Norway to Bulgaria. 10,000 km Sun Route. Nordkapp to Malta. 7,600 km Mediterranean Route. Athens to Cadiz. 7,600 km Via Francigena. Canterbury to Rome. 1,800 km Danube Cycle Path. Germany to Romania. 2,900 km Tauern Cycle Trail. Krimml Water Falls to Passau. 300 km Alpe Adria Trail. Villach to Trieste. 750 km
Along the Iron Curtain Trail
Cycling is good for you. Very good, in fact. Amongst the well-documented benefits are an improvement of your mental health prompted by the steady release of adrenalin and endorphins that physical exercise brings about. Cycling raises your heart rate, gets your blood pumping, and thus reduces the risk of heart disease and cancer. Your leg muscles become nicely toned, and an hour of cycling can burn up to 500 calories, which offers you the chance to lose weight (or have a second breakfast if you are so inclined). It is also gentle on your joints, unlike jogging for instance. You will also help reduce carbon emissions by forsaking other modes of transport, but if you still need convincing, cycling apparently also improves your s** life. All those hours spent in the saddle build up essential muscle groups that allows potentially reproductive activities to last just that little bit longer. Not convinced? Check out a post on the website
Cycling Weekly.
Along the Sun Route. Bohuslan Coast, Sweden
So no excuses really for planning your next get-away involving a bike. You can be truly EPIC by checking out the website of
Euro Velo
, which just celebrated its 25th anniversary. Sponsored by the Council of Europe it is a network of 19, mostly long distance trails, from the grand 'Iron Curtain Trail', which runs for 10,000 km from Norway's border with Russia down to Bulgaria. Or how about the 'Sun Route', which comes in at a measly 7,600 km from the Nordkapp to Malta. Equally long is the 'Mediterranean Route' from Athens in Greece to Cadiz on Spain's Atlantic coast. If this all sounds a bit too long and arduous; you can of course only do individual stretches, such as the trip down the Loire Valley from Nantes to Nevers (a hop at a mere 400 km).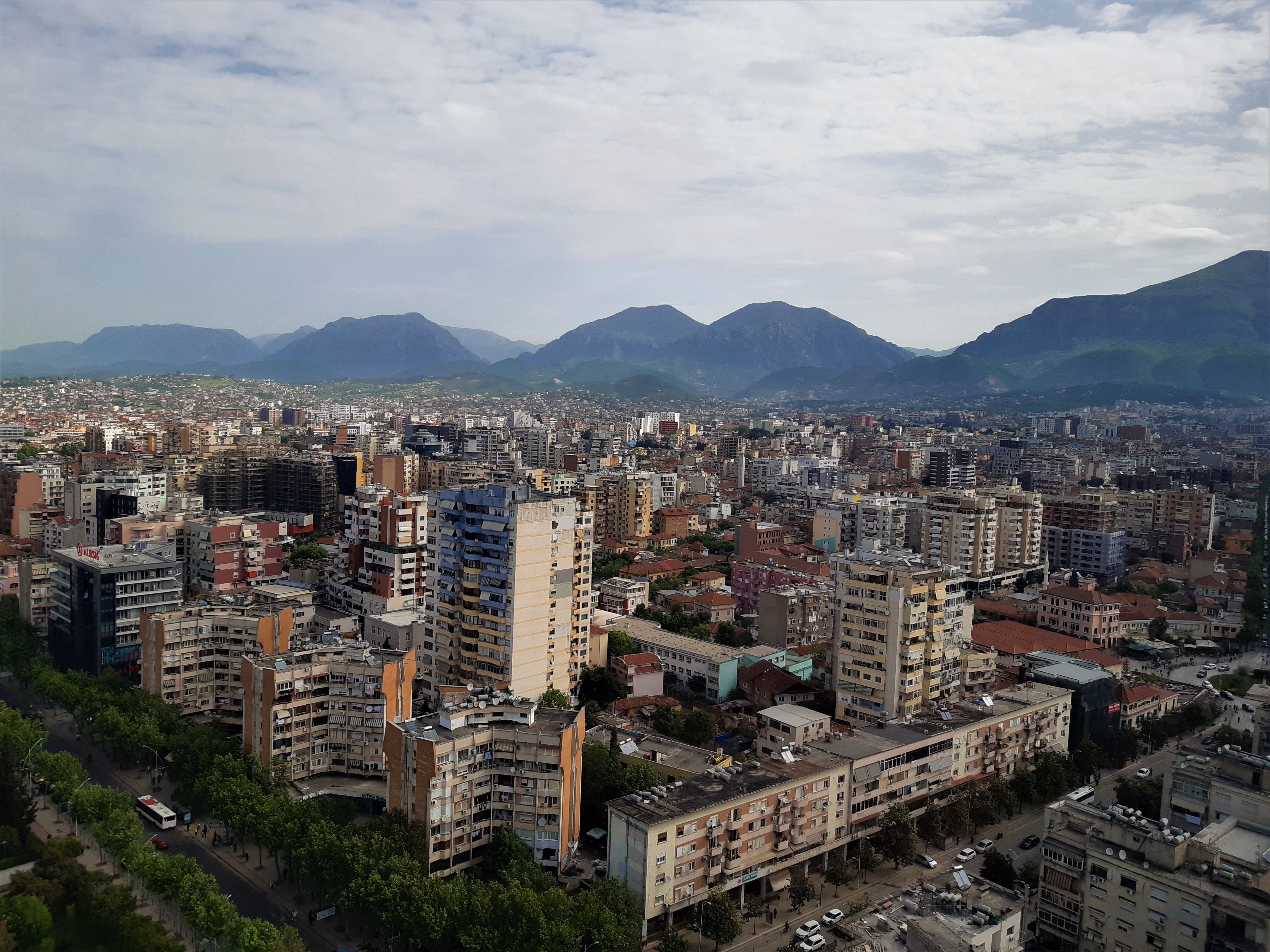 Along the Mediterranean Route. Tirana, Albania
The oldest established trail must be the
Via Francigena.
Back before cycles were invented, in 990 AD to be precise, Archbishop Sigeric must have gotten tired of the scenery provided by his hometown Canterbury and decided to hike to Rome. Back in Kent, he recorded the 80 overnight stops that still today form the backbone of this pilgrim route. Cyclists can do the 1,800 km in around 20 days, but you need strong legs as two vicious mountain passes await in the shape of the Saint Bernard Pass (2,469 m) and the Passo della Lisa (1,041 m), not to mention some rather hilly terrain in Tuscany and the Apennines.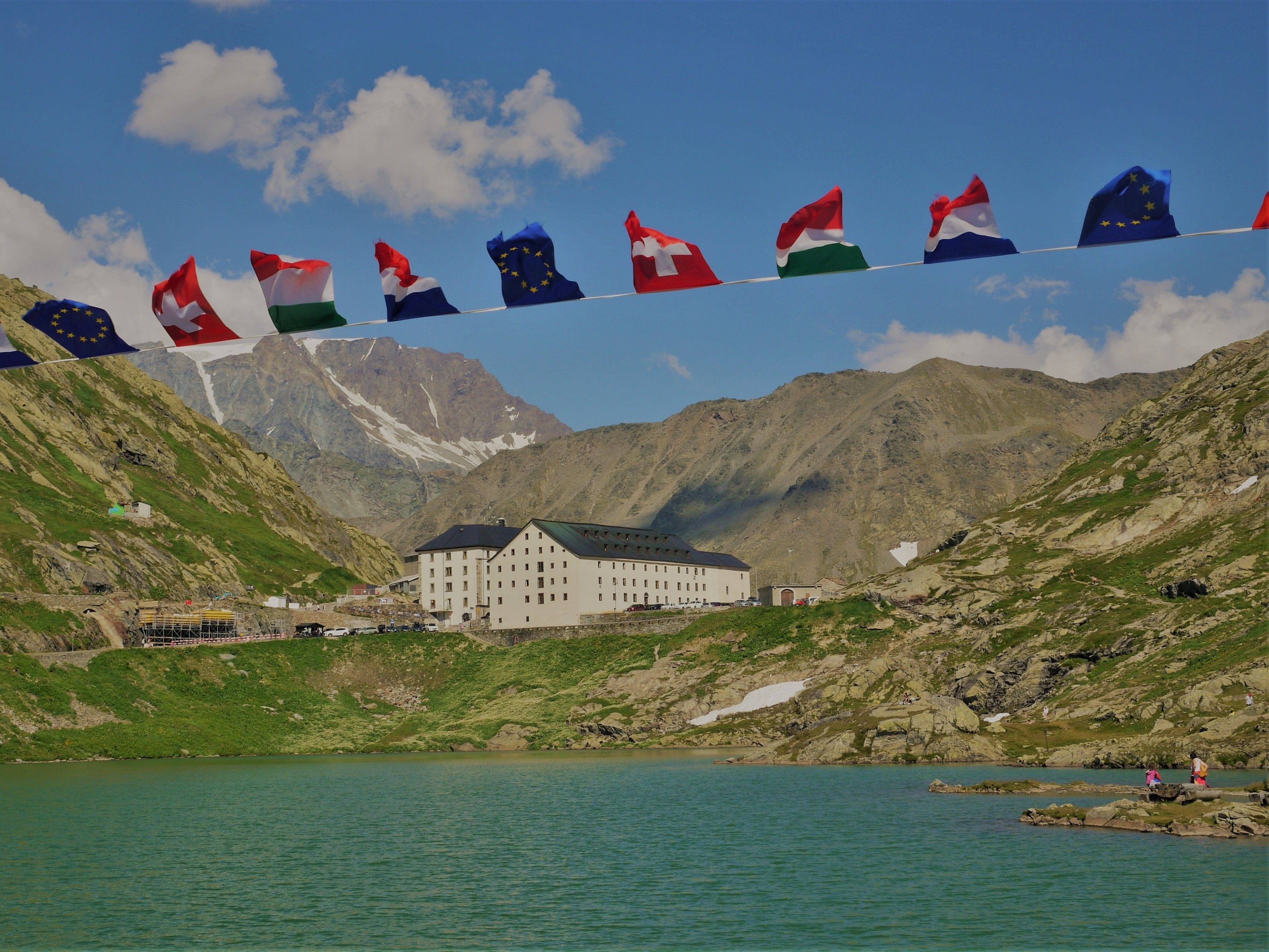 Along the Via Francigena. San Bernard Pass
Gaining in popularity, particularly because of its gentle, downhill nature is the
Danube Cycle path
, which runs for 2,900 km from its source in southern Germany to the Black Sea, passing such cultural highlights as Regensburg, Vienna, or Budapest. In particular the 290 km stretch (3 to 6 days) between the Austrian and Hungarian capitals is very appealing. You can check out the trail as part of
Euro Velo's #6
(Atlantic to the Black Sea) . Also in that part of the world is the
Tauern Cycle Trail
, which starts at the spectacular Krimml Water Falls and continues for 9 stages to Salzburg, Zell am See, and Passau. In a sour reference to history you will also pass through Braunau, birthplace of a certain dictator who promised a 1000-year longevity.
Start of the Tauern Cycle Trail. Krimml Water Falls
Not content with being second fiddle to Austrian and German road mapping, France too has a highly attractive (and tough) long distance path with the '
Route des Grandes Alpes
', which starts on the Swiss French border in Geneva and after 710 km and a spirit-sapping 18 mountain passes finishes on the Mediterranean coast in Nice.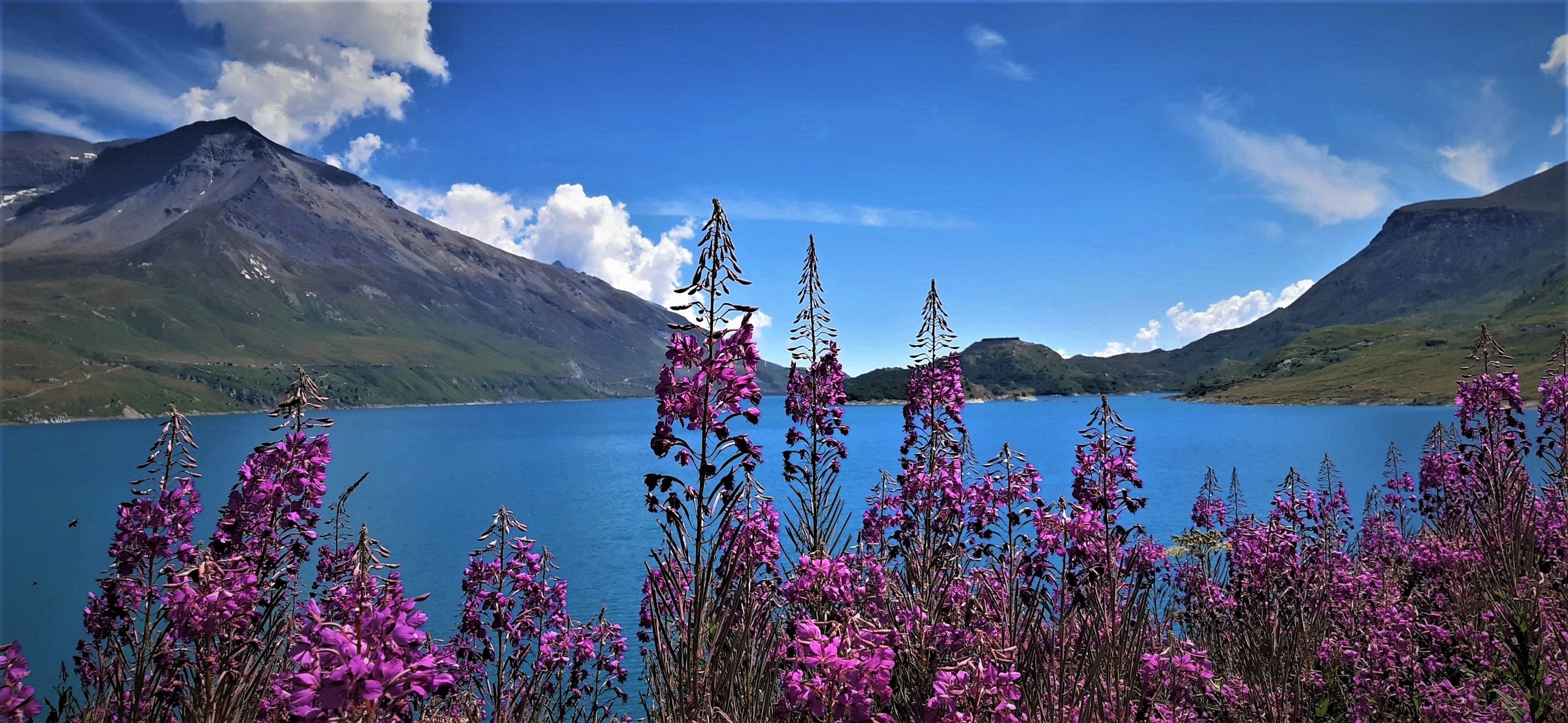 Along the Route des Grandes Alpes. Col du Mont Cenis
Which Bike?
You can take inspiration from madman and cycling legend Tim Moore, who rode along the former Iron Curtain on a communist East-German folding bike which he admittedly spruced up by replacing the standard single-gear mechanism with a two-speed version. Tim also famously retraced one of the toughest-ever bike races, the 1914 Giro Italia on a hand-made wooden bike (as was the custom in those days) whilst wearing authentic woollen jumpers through those snow showers in the Alps. Tim Moore: a true legend for our times. For the less-adventurous types, the decision is between a racing or a touring model. Since the described routes in this post are all on paved and smooth road-surfaces, mountain bikes, which are equipped to handle rough and uneven terrain would not be the best solution. So-called road bikes are lighter, faster, and thus require less physical effort. But the thinner profile of their wheels is more prone to flat tyres, while you might also struggle to mount a decent rack on them in order to carry your luggage. But if you have an accompanying vehicle carrying your gear and repair kit, this might just be a feasible option. But most riders would choose a hybrid bike that is sturdy enough to carry you and your stuff without the need to stop at the roadside, whenever you cycle over a mis-placed nail. The following
post
in UK's news outfit 'The Independent' hopefully provides some clarification.
To 'e' or not to 'e'.
The case for electric bikes is a strong one. In fact, once you have ridden on one of those magical machines you might never go back to the traditional type, as you are getting accustomed to the almost effortlessly smooth glide. So, if you rate comfort over physicality, e-bikes might just be your thing. You can also carry more luggage without exerting any extra physical effort. And instead of aiming for the customary 60 – 100 km per day, you can easily exceed your target by 30% (or reduce the amount of time spent in the saddle by a couple of hours). The downsides are the need for a powerful battery that can keep you going all day (and potentially up any steep, and thus juice-sucking climbs). Obviously, you also need to recharge those beauties overnight, so staying in campgrounds might prove to be an insurmountable organisational challenge. The biggest factor, however, are the extra costs. You can get basic e-bikes for around 1000 €/£, rising all the way to the level of a decent used car. Check out an article in
Cycling Weekly
while sports equipment giant
Decathlon
also offers a wide selection that should give you a good understanding of what's on offer.
Transport and Accommodation
The websites of the respective routes listed in this post offer links to tour operators that take care of your overnight stays, whilst also adding the option of carrying your luggage to your next stop. It saves you a lot of hassle but in return comes at a price premium. Yet, with a little time and effort, it is also possible to organise your own tailor-made tour. As to accommodation,
Booking.com
as well as
Hostelworld
have plenty of options.
Camping Info
and
Euro Campings
are starting points for those wishing to spend the night in a tent.
If you pack tightly and factor in the odd laundry stop, it is also perfectly feasible to carry all your belongings in two or three pannier bags on your luggage rack. But if you prefer to cycle without the extra weight, there are numerous specialised baggage carrying companies that would be happy to lighten your load. If you google 'cycling, luggage, transport, Austria (or Italy, France etc), a comprehensive list of options will come up, chiefly amongst them a pan-European service called
Eurobikes
.